Strawberry Lemonade CBD Vape Pen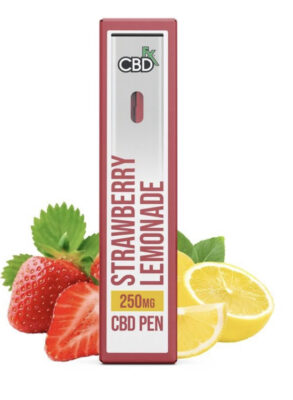 Strawberry Lemonade CBD Vape Pen (250mg)
Our disposable CBD Strawberry Lemonade Vape Pen allows you to vape your daily serving of CBD in a convenient, user-friendly and extremely portable product. The entire vape setup is pre-charged, pre-mixed, and ready to go!
Inside each CBD Strawberry Lemonade Vape Pen is a cartridge that contains our specially formulated CBD e-juice with 250mg of organic, broad spectrum CBD. You'll get a generous amount of puffs (approximately 400!) before it's time to simply toss your disposable vape pen and replace it.
The CBD Strawberry Lemonade Vape Pen comes fully charged and assembled. That means all you have to do is take your pen out of its packaging and vape away. Also, being draw-activated, there are no buttons on your CBD vape pen to push, making the operation of this device as simple as can be.
This Strawberry Lemonade flavor is perfect for vapers who are accustomed to sweeter tastes while puffing their CBD vape. Every inhale of your CBD Strawberry Lemonade Vape Pen delivers tart and tangy notes from the fresh strawberries and zesty lemons. The exhale is pleasantly sweet, while the herbal taste of high-quality hemp adds satisfying earthiness.
Why the Best CBD Vape Pens Use Broad Spectrum CBD Oil
There are three different types of CBD oil: full spectrum CBD oil, broad spectrum CBD oil, and CBD isolate. Full spectrum CBD oil is the oil that is collected from the hemp plant during the CBD extraction process. This CBD oil contains all of the chemical compounds present in the hemp plant's buds, leaves and stalks. This includes all of the cannabinoids present in the hemp plant, including CBD, CBN, CBC, CBG, THC, and more.
It should be noted that, by law, hemp plants must have less than 0.3% THC, making it non-intoxicating. Full spectrum CBD oil also contains the various terpenes and flavonoids present in the hemp plant, as well.
Broad spectrum CBD oil is created when an extra round of filtering is done on the full spectrum CBD oil, removing all detectable amounts of THC. In the process, this filtering also removes some of the other cannabinoid and terpene content, though it still leaves a robust cannabinoid profile behind in the oil. Broad spectrum CBD oil is often preferred by people who want a complex CBD experience, but don't want to risk a false-negative on a drug test.
CBD isolate is 99% pure CBD, meaning all other cannabinoids and other hemp-derived compounds have been removed.
Because broad spectrum CBD maximizes the benefits and minimizes the liabilities involved in using CBD oil, we decided that it would be the best choice for our CBD vape pens — including our CBD Strawberry Lemonade Vape Pen!
What Are the Benefits of Using a CBD Vape Pen?
CBD vape pens, such as our CBD Strawberry Lemonade Vape Pen, are small, discreet, and extremely portable. Due to their small size, you can take them anywhere without hassle. The best part is that our CBD vape pens come fully charged, so that you never have to worry about buying chargers. In fact, the vape pens are disposable as well, so once you're done consuming the CBD-infused vapor, you can simply toss it away for a no-fuss experience.
Why We Make the Best CBD Vape Pens
At Cannaleaf Pens, we have the best lab-tested CBD oil available anywhere. Whether you want to see CBD lab results to make sure your CBD products are free of contaminants, or you want to confirm that your favorite CBD product really contains the amount of CBD we say it does, you can always look on our site for third-party lab reports for every CBD product we sell.
Providing lab testing helps us promote transparency, and you'll also note that our ingredient list is very simple. Some CBD companies think they can get away with adding fillers and thickeners to their CBD vape products to pad their margins, but here at Cannaleaf Pens, it's easy to see that we're offering the genuine article. When you only have four ingredients in your vape oil products, there isn't much you can hide.
What Ingredients Are in My Strawberry Lemonade CBD Vape Pen?
Our CBD vape pens only contain four ingredients: organic CBD, propylene glycol, vegetable glycol, and natural flavoring. That's it. No fillers and none of the harmful additives, such as vitamin E acetate, that some less reputable brands may use.
Broad Spectrum CBD
Our Strawberry Lemonade CBD Vape Pen contains broad spectrum CBD, organically grown in the great state of Kentucky. We use only the cleanest extraction method — CO2 extraction — to remove the CBD oil from the hemp plant. Because of our firm commitment to quality at every stage of cultivation and production, you can be assured that you're getting the best CBD oil available. And we have the third-party lab reports to prove it!
Propylene Glycol 
A vaping standard, propylene glycol is a colorless, odorless liquid used in a variety of food and medical applications. It helps to evenly distribute the taste and flavor of the vape juice.
Vegetable Glycol 
Also an essential component of vaping products, vegetable glycol is a natural chemical derived from vegetable oil. It's used to give a certain level of thickness to the vapor, and smoothes out the harshness of the propylene glycol, giving your e-liquid flavors more body.
Natural Flavors
The flavorings we use in our CBD vape products are often used in food-based applications, such as gelatins. These natural ingredients are safe to consume and, when combined well, can make some great flavors!
The Last Word on CBD Strawberry Lemonade Vape Pens
Our CBD Strawberry Lemonade Vape Pens give you the sweet, fruity taste of summertime lemonade with fresh strawberries, along with the "chill" of organic, broad spectrum CBD. And with our top-quality pens, you'll get a reliable hit every time. Discreet and durable, they're the perfect CBD product to take anywhere you go!